Yesterday I took a long series of pictures in an attempt to montage some of the combinations possible from my Wardrobe Basics outfits in addition to MMM, day 3 picture.  They were all cute, but every last one of them was blurry.  I was sad.  I guess the road to understanding my camera is occasionally going to smack me in the head.  I think I will attempt the montage tomorrow or Sunday when DH can deal with the camera.
So, I'll attempt this again.
Day 3:
Cabi Gather tee 2.0 in zebra print cotton
double knit pants (waistband grossness covered easily by the top)
It was laundry day yesterday, and these pants are so comfortable for feeling polished but still being totally comfortable.  So comfortable that I walked the kids to the park in them.  I will be revisiting this style come fall if for no other reason than redemption for the waistband of doom.
Day 4:
Cabi Gather tee version 1.0 in white rayon jersey
Another Ottobre 5-2007-9 in altered twill
So I bought this twill in March thinking I'd use it to make a pair of much needed shorts.  It was listed as coral, so I bought it with these J. Crew shorts in mind.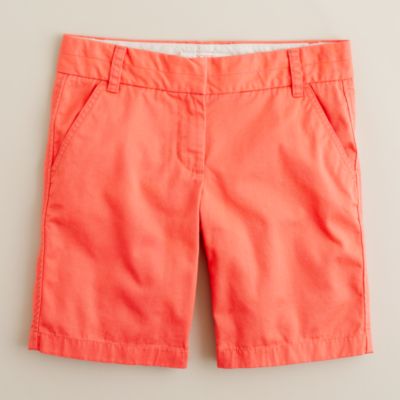 Well, when I got this twill, it was not the pretty peachy gentle coral I was going for–it was more like radioactive hallucinogenic orange.  But it is nice fabric, so I decided to make it an experiment.
I read this cool article from Threads about dyeing with bleach, and I gave it a go.  I mixed a 1:1 solution of water and bleach in a little squeeze bottle and went to town randomly all over the fabric.  I washed and dried it and I then overdyed it in the same manner with weak solutions of Rit Pearl Grey and Rit Petal Pink.  I let those sit overnight and then washed them.  In all of this, the hand of the fabric changed a little–it lost a lot of drape and became kind of stiff almost like a heavier denim.
I realized that it no longer had the right drape to make shorts from.  I made a pair of gauchos from a similar weight twill last summer and I think I wore them precisely twice for the same reason–they could walk themselves down the street they were so stiff.  But an a-line skirt?  Perfect use for this fabric.  And the "print" is not as busy as my teal and white skirt, so the details of this pattern could really shine through.
I updated my review of this skirt here.