So the reason for my absence/why I didn't make it all the way through Me Made May/why I haven't sewn in 2 weeks has to do with those awesome/horrid hormones responsible for that first trimester.  I'm due Christmas Eve!  We're excited, but I am very very tired.  I'm starting to get a little more energy, but it's slow going, and right now, I'm content to be able to cook dinner–something I couldn't do with either Sam nor Noah because I was so morning sick with both of them.  No morning sickness this time, just the tired…Like when Olympia, the wind up doll from Les Contes d'Hoffman falls over in the middle of her aria and has to be wound up again tired.
I can tell I'm starting to get a little more energy though because I'm starting to plan a little.  I snagged an old Ottobre on Ebay that has a great camisole pattern and a cowl neck.  I think the cowl would be great for a fast and easy copy of this White House/Black Market tee.
What a great summery basic, right?
Also really really high on my list are these maternity pants from Burda.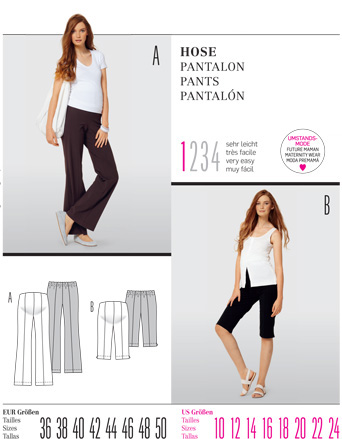 I love the princess seams in front and back and how go with everything these pants seem like they would be.  This came out a few years ago, but it's sadly OOP and I've seriously been checking Ebay and Etsy nearly every day for about 4 months and it has not appeared even once.  Does anyone have this, and can I buy it from you?  You can name the baby Rumplestiltskin style–just kidding, but I almost want this pattern that badly.
I'm looking forward to getting sewing again.