Readers, I am woefully behind on posting.  Like I haven't written in 4 garments behind.  I will try to remedy that this week.  Writing will be on my to do list a little every day this week to try and catch up.  In the mean time, I will phone in a post about fabric shopping away from home.
We just got back from seeing my husband's family in San Diego, and somewhere between going to the zoo and the beach and enjoying our time with family, my mother-in-law and I popped out to check out a couple of fabric stores.
Our first stop was Discount Fabrics.  It's located in an old theater.  The reviews tend to suggest that the employees are rude, but the lady helping me was very nice, and I tend to ignore such comments because I believe that if you go in with a sour attitude you will probably be treated in kind.  It's kind of divey but the ambience was fun and they had a nice selection of random bits of this and that.  They had quite a lot of silk–a lot of charmeuse (would that my wallet and lifestyle could justify being wrapped in fabric butter) and dupioni (wouldn't you know I passed by a perfectly lovely aqua piece only because I have a darker teal dupioni that I have no idea what to do with).  I picked up a chiffon to line a blouse I've had in the queue and some denim that was $3/yd.  The denim was a flat fold that was up in one of the balconies where there were lots of tables of remnants which were all very reasonably priced.
Next we ended up at the Clairemont Yardage Town as it was not too far from Discount Fabrics and also close to my husband's grandmother's house where we stayed.  They had a really good selection of all sorts of garment fabrics with very very little quilty stuff (is it snobby of me to be excited about that?).  There was lots of nice heavier weight knits, mostly solids and a really beautiful silk chiffon that I regrettably parted ways with because I only budgeted $30 for both stores (I was over that by a quarter–I impressed myself).  Instead, I picked up a fun small wale corduroy for some wintery jeans.  I like the splotches of green in the gray.  And I was over the moon when I found this light cotton knit.  I love the gray on the green, I love that it's a zebra print, I love that the pattern runs diagonally, and most of all, I love that it goes with the corduroy.  This will not last very long in the stash at all.
If you're in San Diego, I would highly recommend both places.
Remember my hand-written goals of yore?  I've gone back to doing them the past couple of months and have been doing quite well with them.  I like drawing if for no other reason than I get to use my beloved Prismacolors, and I find it helps me to have a general idea of what I'm working on rather than a nebulous sort of queue.  This month I'm starting work on a winter coat, and I would like to get to Butterick 5677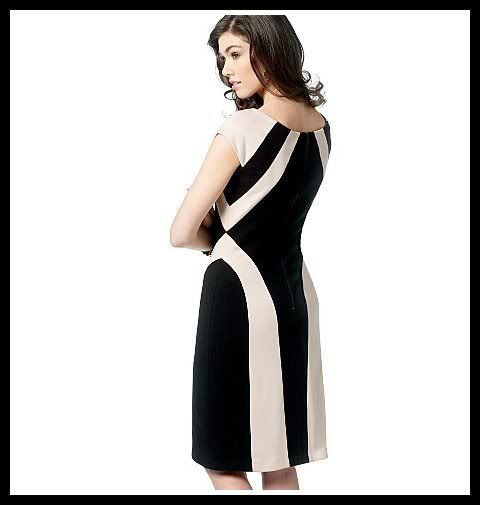 because I think it's fantastic, but I'm purposely leaving those off of my written goals because I've noticed an incredible lack of casual clothes in my wardrobe.  A recent post by Cidell left me thinking about what indeed DO you wear to watch football ?  I've been sewing as if I was still teaching, and while I like wearing nicer clothes while I'm at home, the sweats and pajamas inevitably come out when I've acquired enough layers of spit up on the nice clothes.  I just don't have anything else that's casual.  So on the printed goals are some wardrobe basics this month, and when I finish those I'll add more details about the coat and other things to the queue.
I like to be able to finish what I set out in the time period I give myself.  If I get too ambitious, I just end up feeling overwhelmed (I'll be honest though and say that I'm so motivated to blow through this queue because that Butterick dress is eating up my head with its awesomeness).  What time periods do you all like to work within to help you achieve your goals?